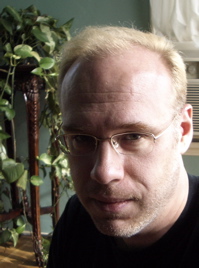 Tod E. Kurt is a founder of ThingM, an electronic device studio. He was a founding developer and systems architect of Overture Systems, originally GoTo.com, later sold to Yahoo. While at Overture, he was a key strategist in technology relationships with companies such as Microsoft, AOL, Ask, Lycos, CNN, and the New York Times. Tod holds several key patents in the field of Internet Search technology.
As an internet technology consultant, he has worked with Idealab, Pacific Bell, Trader Joe's, Tales from the Crypt and id Software. As a space technology engineer, he has worked with BlastOff, Malin Space Science Systems, Altadena Instruments, Caltech, Gemstar and JPL/NASA. He has engineered the hardware and software for robotic camera systems that went to Mars.
Tod's recent speaking engagements include a Roomba demonstration at Dorkbot LA, and he recently held a hardware prototyping workshop called "Spooky Arduino" at the Machine Project.
Tod has degrees in Electrical Engineering from Caltech and Physics from Occidental College. He started robotics hacking at the age twelve when he took apart his BigTrak, RC car, and chemistry set to make an upright programmable robot.
Comments are off for this post